Declined codes
As of the 19th of September 2018 funding round Pub Charity Limited will be using a new set letter codes to indicate why an application was declined or only partially funded. If your application was made during or after this round please refer to this table for declined codes however historical applications made before the September 19th 2018 round will still use the old code system which is supplied further below along with approved and declined lists from this period.

Our latest grant recipients:
Declined applications:

Where an application is declined or partially declined (i.e., the applicant is given some or not all of the money they applied for), it is usually for one of the following reasons:
Applications prior to September 2018
Declined and partially funded applications made prior to the September 2018 round will still use our old declined code which is detailed bellow.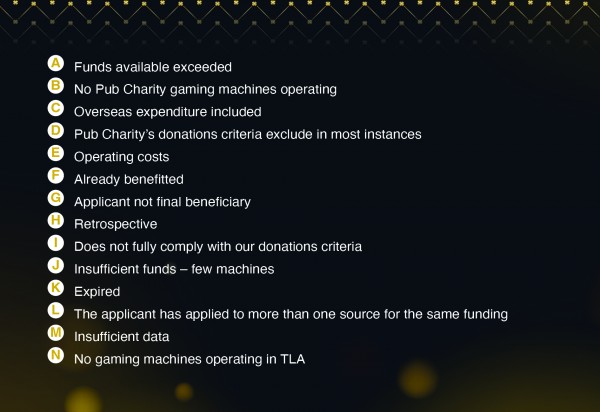 | | |
| --- | --- |
| Past recipients: | Past declines |